Luminous Labyrinth
Green World is Available!
---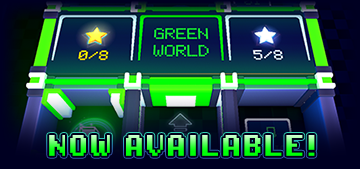 All 8 levels of Green are now playable!
Green World brings 8 hand made newly designed levels to play through and introduces two new obstacles...
| | |
| --- | --- |
| Ninja Spinner | Portal System |
Along with this update comes some reassigned colors in all available worlds, a few level modifications to adjust difficulty and a few changes to level flow. Also lots of bug fixes and some effects updates.

The main menu maze of the game has also had a huge update, along with some pre-work to add in some survival levels in the future and the end Rainbow World.
Be sure to update your project or if you haven't downloaded the game yet, now is a great time to do it! There are now 4 full worlds which include 32 playable levels in total.
As always, this game is still under development and is always seeking feedback from the players, so if you see a bug, or have some critique for me, I'd love to hear it! Post in the comments of the game page or email me at games@bwshowcase.com. Enjoy the game!!!
Files
LuminousDemo_Android.apk
66 MB
Jun 12, 2020
LuminousLabyrinth_Android.apk
110 MB
Jun 12, 2020
LuminousDemo_WinSetup.exe
55 MB
Jun 12, 2020
LuminousDemo_WinX86_64.zip
68 MB
Jun 12, 2020
LuminousLabyrinth_Setup.exe
67 MB
Jun 12, 2020
LuminousLabyrinth_WinX86_64.zip
110 MB
Jun 12, 2020
LuminousDemo_Linux.zip
73 MB
Jun 12, 2020
LuminousLabyrinth_Linux.zip
117 MB
Jun 12, 2020