Luminous Labyrinth
Luminous Labyrinth Linux Version!
---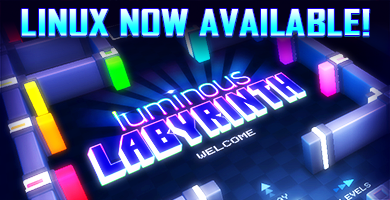 Luminous Labyrinth is now available for Linux!!
I had a request from a member of my Discord channel for a linux version of the game, so i created it yesterday and posted it.
He was able to download both the demo and dev build version and he said it ran smoothly. So if you're a linux user and you've been waiting for a Luminous Labyrinth version to be available, now's your chance!
If you want to join the discord server you can click here. There is still only a few members, but it allows me to answer any questions you have. Plus I post there whenever I have updates either small or big. You can also follow me on Twitter for the most consistent flow of information.

If you play the linux version and have issues, feel free to post in the linux server, DM me on twitter, or email me at games@bwshowcase.com
Enjoy!
Files
LuminousLabyrinth_Linux.zip
99 MB
Apr 22, 2020
LuminousDemo_Linux.zip
99 MB
Apr 22, 2020